"I do not believe in taking the right decision, I take a decision and make it right."
Above famous line said by the great leader Quaid e Azam Who make possible the establishment of Pakistan. Jinnah had come to believe that the Muslims of the subcontinent should have their own state to avoid the possible marginalized status they may gain in an independent Hindu–Muslim state. He stood for justice, for freedom, for equal rights, for the rule of people, for an open society and for a noble Pakistan.
Quaid-e-Azam is the great leader of our history. He was remembered as a powerful leader who brought Islam from its slumber by urging Muslims to live according to Islam's teachings without Hindu influence during the establishment of Pakistan. He is widely known as Baba – e – Qoum (Father of Nation) and Quaid – e –Azam (Great Leader).
Introduction and Educational Background
Quaid-e-Azam was born on 25th December 1876 in Karachi, British India, in a Gujarati family. Initially, he was enrolled at Sindh-Madrasa-Tul-Islam at the age of six, he soon moved to Bombay and continue his education but he returned soon to Karachi. At the age of 16, when offered an opportunity to work, he decided to move to London in 1892. He later resigned from the apprenticeship at the shipping company and started pursuing law to become a barrister.
Jinnah joined the Lincoln's Inn in 1893 to become the youngest Indian to be called to the Bar, three years later. Young Jinnah rose to prominence and became Bombay's most successful lawyer, as few did, within a few years. He became interested in politics during his frequent visits to the House of Commons while studying at Lincoln's Inn but his actual political affiliation started after he attended the 20th annual meeting of the Indian National Congress in 1904.
He went to England in that year along with Gopal Krishna Gokhale (1866-1915), as a member of a Congress delegation to plead the cause of Indian self-government during the British elections. A year later, he served as Secretary to Dadabhai Noaroji (1825-1917), the then Indian National Congress President, which was considered a great honor for a budding politician. Here, at the Calcutta Congress session (December 1906), he also made his first political speech in support of the resolution on self-government.
QUAID-E-AZAM Struggle for Pakistan
Till the late 1930s, many British Raj Muslims wanted to be a part of a united state comprising most of British India after freedom, as would the Hindus and those seeking self-governance. According to historian Haslam Quaid-e-Azam (Jinnah) discarded the possibility of peace with Congress when he "rediscovered his Muslim heritage, his sense of origin, of society, community, and history that would become gradually popular in the final years of his rule. Jinnah also introduced Muslim dress in the late 1930s.
Jinnah and Iqbal
Iqbal plays an important role in changing the view of Quaid as well as re-entering in India's politics. Slowly Iqbal achieved success in transforming Jinnah to his point of view, which immediately accepted Iqbal as its "mentor.
To Quaid-e-Azam, Iqbal stated that: "There's only a single way out. Muslims must step up the hands with Jinnah. As well as the Muslim League can only excel in Jinnah's cause. There is now nobody except Jinnah who can guide the Muslims."
Role of great leader in establishment of Pakistan
In the year 1939 on the advice of the Quaid the Indian Muslims celebrated "the day of deliverance", because the cruelties and injustices of the Hindus had come to an end.

On 22nd March 1940 the Quaid-i-Azam addressed a large gathering of Muslims in Iqbal Park, Lahore, and presented the idea of a separate homeland for the Muslims of India.

In the year 1942 the Cripps Mission came to India but the Quaid did not co-operate with it because this mission had suggested formulation of Indian Union.
After the departure of Cripps the Congress started Quit-India Movement but Jinnah had forbidden the Muslims to join this movement of non-violence.

The government crushed this movement and many leaders of the Congress, including M.K.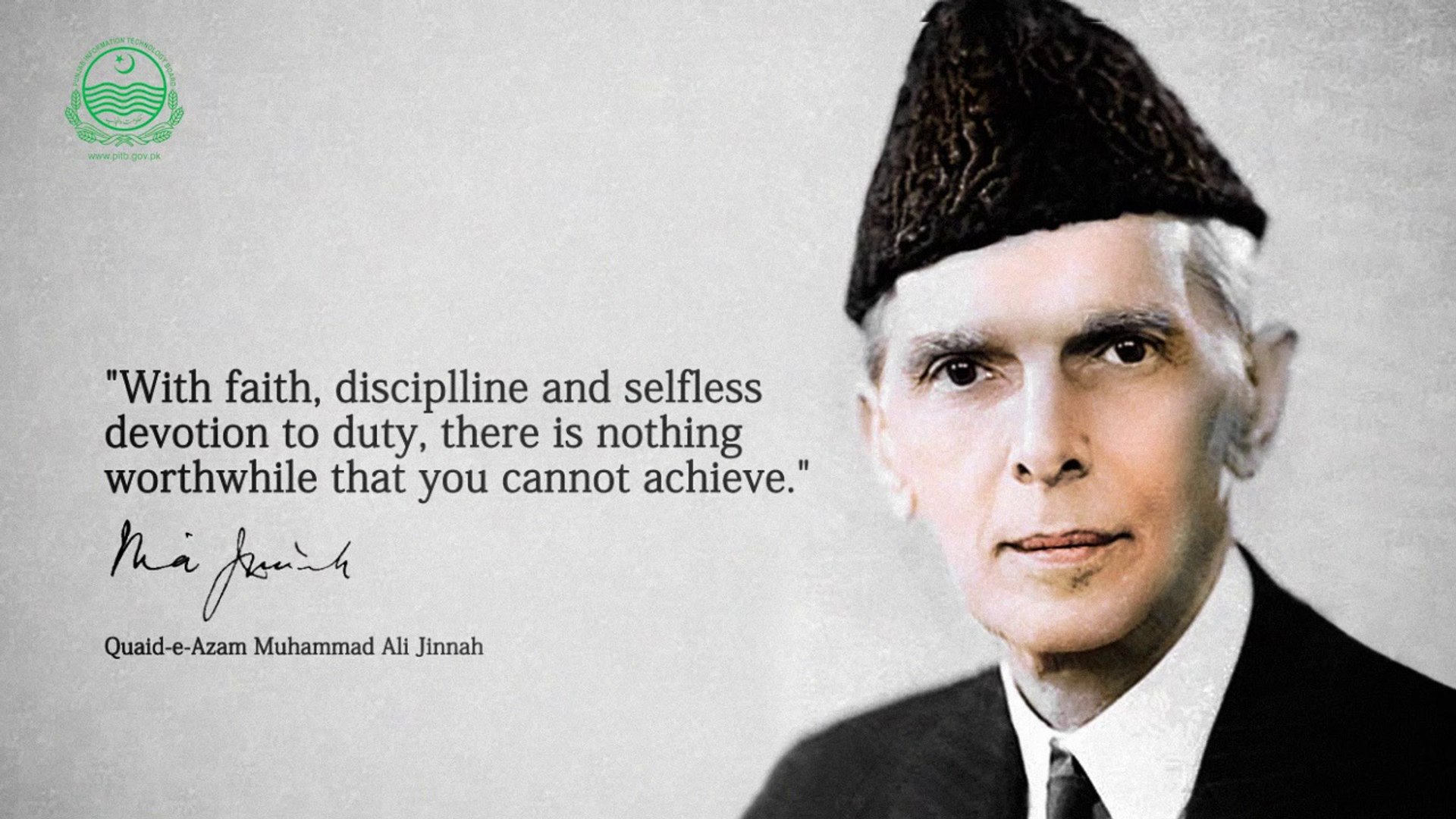 In the year 1946 the cabinet Mission plan came to India to find out a solution for the political crisis of India. The Indians were ready to accept interim government but in this government a lot of differences cropped up hence the Quaid directly demanded the establishment of Pakistan.

After the departure of Lord Wavell from India Lord Mountbatten came as the last of Viceroy of India in March 1947.
After his arrival in Dehli he met Quaid and the leaders of Congress and presented the proposal of 3rd June in 1947 which was acceptable to the Muslim League and Congress. And thus due to great efforts of the Quaid-i-Azam Pakistan came into being on 14th August, 1947.
Quaid from the leader's views
"Mohammad Ali Jinnah was the recipient of devotion and loyalty seldom accorded to a man". This was the glowing tribute that President Truman of the United States paid the Quaid-i-Azam
According to Allama Iqbal, Jinnah was the "only Muslim in India to whom a community had a right to look up for safe guidance".
HV Hudson in his 'The Great Divide' eulogises Quaid's character in these words "Not even his political enemies ever accused Jinnah of corruption or self seeking. He could be bought by no one, and for no price. Nor was he in the least degree weathercock, swinging in the wind of popularity or changing the times. He was a steadfast idealist as well as a man of scrupulous honour"
Once Sir Stafford Cripps described Quaid-e-Azam as "A man of the highest probability and honour, difficult to negotiate with; for the very reason that he was so determined in his purpose"
John Biggs-Davison, a Conservative Member of Parliament in the UK, said: "Although without Gandhi, Hindustan would still have gained independence and without Lenin and Mao, Russia and China would still have endured Communist revolution, without Jinnah there would have been no Pakistan in 1947."
Mrs Vijay Lakshmi Pundit, stated, "If the Muslim League had 100 Gandhis and 200 Azads and Congress had only one Jinnah, then India would not have been divided!"
Quaid e Azam Death
From the 1930s, Jinnah suffered from tuberculosis; only his sister and a few others close to him were aware of his condition. Jinnah believed public knowledge of his lung ailments would hurt him politically. Jinnah died at his home in Karachi on 11 September 1948 at the age of 71, just over a year after Pakistan's creation.
To quote Lord Pathick Lawrence "Ghandi died by the hands of an assassin, Mr. Jinnah died by his devotion to Pakistan".
Jinnah was buried on 12 September 1948; a million people gathered for his funeral led by Shabbir Ahmad Usmani.