The latest data shared by the Pakistan Bureau of Statistics indicates an increase of 19% in Exports since January 2021 with a decline of 30% as compared to November/December in the Trade Deficit.
All Pakistan Textile Mills Association shared this in a tweet on Monday, February 7th, 2022.
Here are the details: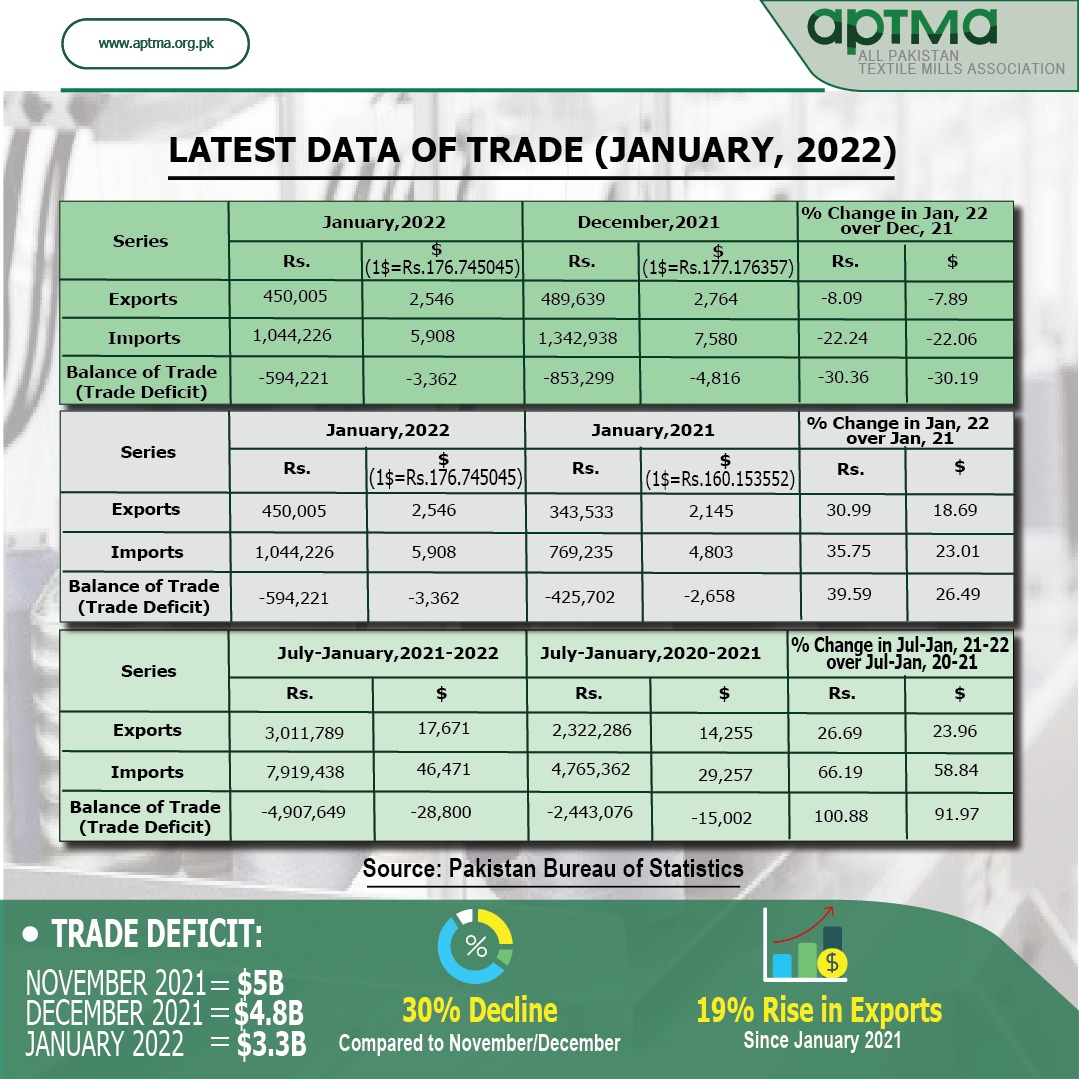 According to Aptma that the country's exports increased by 18.7% to USD$ 2.546 billion in January 2022.
Aptma inform that in Jan, our exports increased by 18.7% to $2.546 billion as compared to $2.145 billion in 2021.
Aptma said that for the first 7 months of FY22 the exports grew by 24%. As compared to USD$ 14.255 billion. They added that they also noticed a declining trend in the monthly imports.
They also said that as compared to imports in December 2021, which stood at USD$ 7.580 billion the imports in January 2022 have declined by -22 percent to USD$ 5.908 billion. These were USD$ 4.803 billion in January 2021, he said.
Exports to USA surged by 25pc YoY in January: The United States of America (USA) remained the top destination of Pakistan's exports in January 2022 with $570 million worth of shipments against the exports of $456mn recorded in the same period last year, up by 25pc YoY.
Exports to China stands 2nd, wherein Pakistan exported products of $230mn against $189mn in the same period last year (SPLY). It showed an increase of 21pc, according to pre-PBS provisional data available with the Ministry of Commerce.
While exports to Italy, the third top export destination, surged by 93pc YoY to $118mn from $61mn in SPLY. Next in line is Spain, the exports to Spain during January 2022 were recorded at $113mn against the exports of $78mn in the corresponding period last year, depicting a growth of 44pc during the said period.
Among other countries, Pakistani exports to UAE increased 24pc YoY to stand at $104mn against $83mn during the said period.